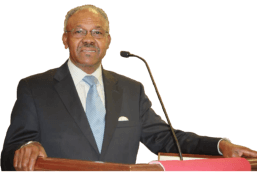 Rev. Dr. Kirthell Roberts was born the 10th of 11 children to Baker and Thelma Roberts on March 12, 1950 in Carthage, Texas. He graduated from Turner High School in Carthage in 1968 and received his Bachelor of Science degree in Agriculture Technology from Stephen F. Austin University in 1972. He has completed other advanced studies from Northeast Texas Community College and Texas A&M University.
Rev. Roberts submitted to the Ministry of the Gospel on February 15, 1975, President's Day. He received his Certificate of License from St. John Baptist Church in Gilmer that same year on July 6. His first pastorship began in April 1976 at the Liberty Winona Baptist Church just outside of Tyler. He was ordained May 16, 1976 and served as pastor there until 1984. The Lord then called Pastor Roberts to Mount Olive Baptist Church in Mount Pleasant in 1984 where he continues to do Kingdom Work. During his tenure as pastor, Rev. Roberts has ordained several area ministers and deacons.
Rev. Roberts has also provided Christian instruction for many in the community where he lives and serves. He assisted in organizing the first Dr. Martin Luther King Observance and March in Mt. Pleasant as a member of the Mount Pleasant Ministers Union.  He has also been a board member/officer for the Mount Pleasant Habitat for Humanity, CASA, the Boys and Girls Club, Cypress Basin Hospice and the Optimist Club. Rev. Roberts was chosen as the Mount Pleasant/Titus County Citizen of the Year in 2017. For several years now, he has attended and participated in a weekly, interfaith Prayer Breakfast community group.
Rev. Roberts retired from the USDA-Natural Resources Conservation Service after 37 years of dedicated service (1970-2007). His roles during that time included: Supervisor of Soil Operations-Northeast Texas, 1981-1993, Chair of the Texas NRCS Equal Opportunity Committee, 1984-1988, Texas NRCS First Black Emphasis Program Manager, 1988-1993 and Natural Resource Manager for Titus, Camp, Franklin, Morris, Upshur, and Gregg Counties, 1998-2007. Some of his many accomplishments during his tenure include: Who's Who of Outstanding Young Men, 1984, NRCS National Civil Rights, Honors 1988 and USDA Civil Rights, Superior Service 1992.
Rev. Roberts has been married to Gwendolyn (Sanders) Roberts since 1969. They have two children, Sonya Roberts-Woods and Daron Roberts; seven grandchildren (Ashton, Chelsea, Dylan, Sydney, Jack, Delaney and Micah) and two great grandchildren (Christian and Caydin). Rev. Roberts enjoys hunting, gardening and fishing in his limited, spare time.
Since 2004, Rev. Roberts has faithfully served as Moderator of Cypress Baptist District Association overseeing the leadership of 36 churches in Northeast Texas. He also served as Vice President of the Baptist Missionary and Educational Convention of Texas (2007-2022). On Feb. 1, 2022, Rev. Dr. Kirthell Roberts officially became the 14th president of the Baptist Missionary and Education Convention of Texas since the organization's inception in 1873. With support from the entire BM&E family, Rev. Roberts will now help to oversee some 300 churches across the state and continue doing the will of the Lord—to God be the glory!
The Cabinet
Vice President at Large & Southeastern Region – Dr. Oveal Walker, Pastor of Mount Calvary Baptist
     Church, Beaumont, Texas
Vice President Northwest Region – Dr. Larry Polk, Pastor of New Hope Baptist Church, Lubbock, Texas
Vice President East Region – Rev. Ronald Ruffin, Pastor of Greater St. John Baptist Church, Hooks, Texas
Vice President Southwestern Region – Dr. Lonnie C. Dews, Pastor St. Paul Baptist Church, Brazoria, Texas
General Secretary – Dr. Amos Horton, Pastor of Reed Chapel Baptist Church, St. Augustine, Texas
Finance Chairman – Rev. Ronald Ruffin, Pastor of Greater Saint John Baptist Church, Hooks, Texas
Treasurer – Rev, Bradley Hale, Pastor of Mt. Horeb Baptist Church, Center, Texas