Women's Auxiliary President – Dr. Hugh Dell Gatewood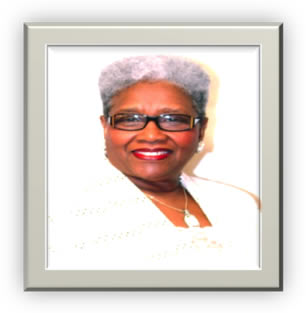 Dr. Hugh Dell Gatewood is the oldest of four children born to Hugh M. and Dorris C. Barnett. She is a native of Houston Texas and a mother of two and Grandmother of 6.
Education:
Public Schools of Houston and Texas Southern University
Retired Teacher of the Galveston and Houston Independent School Districts
Church Memberships: Presently a member of Greater First Baptist Church (56 years), serving under the leadership of Dr. Rev. W. E. Gibbs for 42 years. Rev. R. L. Thompson, Sr. is now the Pastor. Formally a member (during youth and Young Adult) of Concord Baptist, Rev. E. R. Green for17 years, and was a member of Old Land Mark Association, Texas Baptist State Convention and NBC, USA, Inc. Now, Lincoln Southern, B. M. & E State Convention (56 Years).
Religious Training
Church School, Baptist Training Union / Nurture
Youth and Young Adult training ~ Concord Baptist Church (17 years) ~ Pastor E. R. Green
Advance Certificate ~ Foreign Mission Specialist;
Completion of Certification for National Deans and Presidents; Contemporary Ministry (National Baptist Congress ~ 4 years); Missionary Education Training ~ Local, State and National level
Completed various studies on the Church, District, State and National Level in the Congress of Christian Education; Completed all phases of the COP; Served as Dean for Greater First Baptist Church; Lincoln Southern Congress, B. M. E. State Congress; and National Baptist Congress. Instruction in Deans and Presidents Seminar; later Director of same (Until 204). Honorary Doctor of Humanities awarded by the Texas School of Theology ~ (March 25, 2001); Awards and Certificates from the Conference of Christian Education SSPB ~ Nashville TN
Church
President of the Mission Ministry (Serving for 49 years)
Member of the Department of Christian Education; Church Trustee, Administrative Assistant to Pastor
District:
President of the Woman's Auxiliary of Lincoln Southern District Association (Serving for 26 years); Lecturer for the District Congress; District Trustee
State:
Presently serving as the President of the Woman's Auxiliary of the Baptist Missionary and Education Convention of Texas (27 years); Served as Youth Director and Instructor of the B. M. and E. State Congress of Christian Education (26 plus years)
National:
Former writer for The Mission Study Guide of the Woman's Auxiliary, National Baptist Convention USA, Inc.; Former Instructor, Director and Supervisor of the Seminar for Deans and Presidents-National Congress of Christian Education until November 2004
Former writer of the Intermediate Sunday School Lessons, Sunday School Publishing Board, Nashville, TN; Writer for Devotional Publication of SSPB (2010 – 2016); Former Second Vice President and West Region Director of the Woman's Auxiliary of the National Baptist Convention USA, Inc. (4 Years)
Former President  of the Woman's Auxiliary of the National Baptist Convention USA, Inc. Dr. Hugh Dell Gatewood began her official service in January 2005.   She served in a distinguished fashion for 12 years with her tenure ending January 2017.
Travel includes 48 states of the United States of America and the Bahamas
Attended, participated and represented the Woman's Auxiliary in the North American Baptist Women's Union in Montego Bay, Jamaica (during my tenure (2001-2004) as Vice President of the Woman's Auxiliary NBC. Followed by a trip to Nova Scotia to participate in the NABWU General Assembly.
Across the Sea: Travel agenda included an Ecumenical Journey in April and May (2007) to Europe (Geneva, Switzerland, Germany, and guest of the Vatican in Rome); and Africa (Senegal, Johannesburg, Soweto, Cape Town and Kenya).
2008 to Maputo, Mozambique, attending the All African Conference of Churches; February 2009 – Inspection of the S. Willie Layten Hospital in Blantyre South Africa, and made a visit to Zomba, Malawi, to visit the church built by the Woman's Auxiliary of the Texas B. M. and E. State Convention;
August 2009 attended the Malawian Convention in Blantyre and was one of the Guest speakers for the Malawian Convention; attended Baptist World Alliance Congress in Honolulu, Hawaii, USA inclusive of the Women's Leadership Conference (2010). Travel to Nassau, Bahamas to deliver the opening message of the Bahamian Women National Convention in 2011. Travel also includes several trips to Canada.
Member of the Justice for Women Working Group of the National Council of Churches
Attended the Ecumenical Human Trafficking Conference at the Church Center for the United Nations, New York ~ September 29th –October 1st, 2008
Invited to attend the 2010 – 2016 National Caucus on Arthritis & Musculoskeletal Health Disparities in Bethesda, Maryland and Washington, DC
Participated in the National Baptist Convention invitation to the White House in December 2011 to dialogue with President Obama's representatives concerning issues that affect African Americans and others (voter suppression, the American Job Act and its benefits to the African American Community, Equitable Funding for Education, Disaster Equity, Healthcare, Veterans and Military Families and Effective collaboration on Efficiencies on the Foreign Mission Field).
Speaker and Women Seminar presenter for the E. C. Morris Minister's Institute (2010 – 2016; Delivered the 2013 Baccalaureate message for Arkansas Baptist College graduates.
Attend the BWA Congress in Durban South Africa – July 2015
Other Activities:
Teacher, Member of the League of Women Voters, Lecturer, Workshop Presenter, Speaker, and a volunteer for Compassionate Care Hospice.
Recipient of many awards and recognitions.